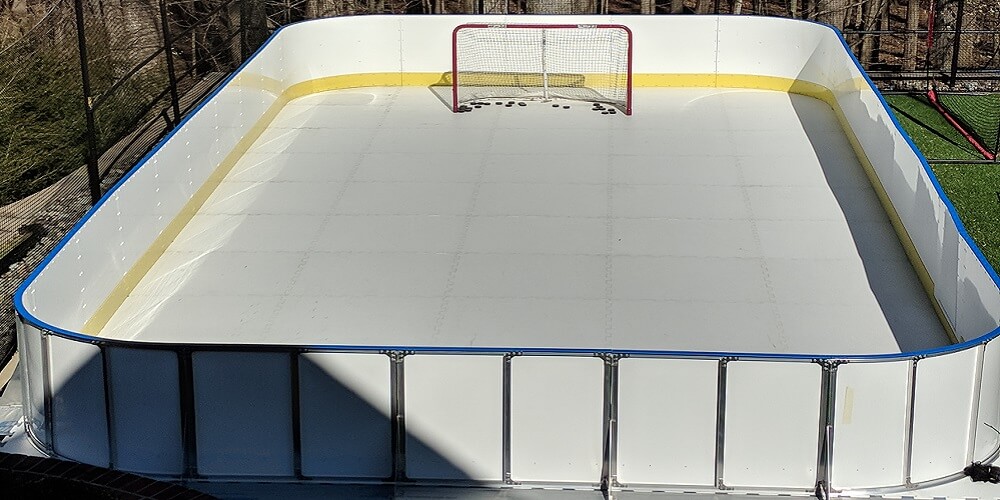 Rink Kit
The D1 Rink Kit features:
D1 Glide Infused Self-Lubricated Pro Synthetic Ice
This exceptionally fast and smooth skating surface has minimal maintenance. Unlike other Synthetic Ice products that use spray-on additives for sliding properties, D1 Glide Infused Self-Lubricated Pro Synthetic Ice features low friction technology, which is infused directly into the material. This results in great glide properties without the need for messy, short-lived surface coatings or lubricants. It is also UV stabilized and inherently impact resistant to withstand extreme heat or cold temperatures, for durability and long life.
D1 Hockey Rink Boards
Finally! Real Hockey Boards! Easy to Use and Affordable!
D1 is proud to make available its Hockey Rink Boards. All D1 Hockey Rink Boards are made with a heavy duty aluminum frame and have the same dasher material you would find in regulation rinks with a BLUE Caprail, WHITE Dasher Face and YELLOW Kickplate. We provide rinks to a wide customer based, including families with Mini Mites and many current and former NHL players.