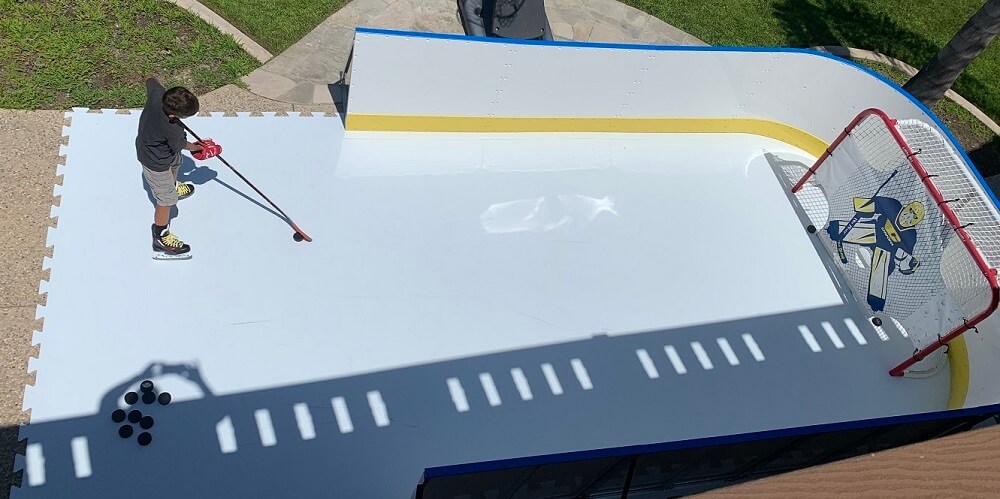 D1 Synthetic Ice POWER TILES
D1 Synthetic Ice POWER TILES is the fastest synthetic ice surface available today.
More consumers, municipalities, hockey training facilities and professional hockey players will choose D1 synthetic ice over other available brands.
Great Skating Experience
D1's artificial ice feels like you are skating on natural ice.  You will develop better hockey starts and stops.  Your strides, cuts and turns will become stronger.
Low Maintenance

D1's artificial ice is manufactured with our glide solution infused throughout the entire synthetic ice tile.  As a result, there is no need for messy, short-lived surface coatings or lubricants.  Simply install the synthetic ice tiles and begin skating immediately.   
Indoor or Outdoor

Create your hockey rink inside or out.  Tested in extreme heat and cold environments.  D1 artificial ice is UV stabilized to protect against the sun and resistant to impact (chipping) when exposed to cold temperatures.
Largest Supplier

Thousands of customers trust D1 to provide them with a superior hockey rink; including the homes of youth hockey players, commercial training facilities and many NCAA & professional hockey teams.
Selecting the artificial ice tiles that is the best fit for you involves a few factors such as hockey rink size, location, planned use & budget. Our hockey rink designers will recommend the best solution for your hockey rink project.
Combine the D1 synthetic ice tiles with D1 Hockey Boards and make a great hockey rink!
Manufacturer Discounts

We have several programs in place to help our customers save.  For example, families with players part of a youth hockey association (USA Hockey or Hockey Canada. ) may receive a substantial savings. We also have several programs in place to help our commercial customers save!
A Single D1 Synthetic Ice POWER Tile is 21″ x 45″
* When purchased by the box, we include four (4) D1 Synthetic Ice POWER TILES per box
* Thickness: 1/4″
* Color: Ice White
* Finish: Matte on 2 sides
* Skate ready dovetail edges for easy installation
Independent laboratory tests show that D1 Synthetic Ice POWER TILES outperforms other synthetic ice skating surfaces on both Static and Kinetic Coefficient of Friction (CoF).
Static CoF indicates resistance to motion from a stopped position and Kinetic CoF indicates resistance once in motion.