Tips
November 28, 2022
2022 Hockey Holiday Gift Guide
If there's one thing we can all agree on when it comes to hockey players and fans, it's that they have a relentless passion for the sport. Whether starting out as a mite, supporting your hometown team through your adult years, or passing your passion down to younger generations, hockey has always been a love that spans all ages – and the holidays are the perfect time to strengthen that love for the hockey-heads in your life.
Here is a look at some of our favorite gift ideas for hockey players and fans in 2022, complete with the latest gear, memorabilia, and accessories to make sure this holiday season goes down as an undeniable W.
State of Hockey Sticks and Barnwood Cutout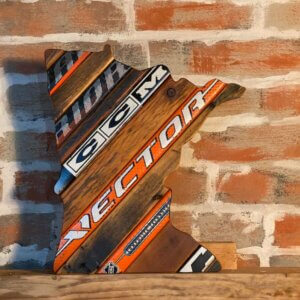 Help a loved one show their support for the State of Hockey with this fully custom, one-of-a-kind creation made from salvaged hockey sticks and barnwood, perfect for adding a unique touch to any man cave or office space.
Looking for a different state or logo shape? No problem. This gift can be custom-made into a wide range of states and logos and can even be made using your own salvaged sticks. For an added cost, a laser-etched name, logo, or both can also be purchased for an even greater level of personalization.
Hockey Boards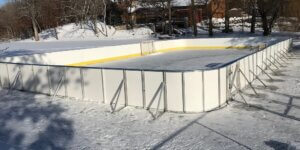 What better gift to give someone than the magic of hockey in their own backyard? Hockey boards from D1 Backyard Rinks can be made to fit any backyard or indoor layout, complete with rounded corners, a blue caprail, a white dasher face, and a yellow kickplate.
D1's boards are made with heavy-duty aluminum to play just like the real thing and are easy to assemble with minimal hassle or maintenance. Thousands have trusted D1 to provide them with a superior hockey experience, including the homes of youth hockey players, commercial training facilities, and many NCAA and professional hockey teams.
Check out our Rink Builder today to start designing your very own custom rink and to give the gift of hockey to someone in your life.
Herb Brooks Miracle On Ice Speech Poster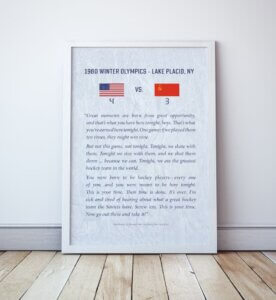 Hockey lovers – especially here in the State of Hockey – are more than familiar with the historic moment of the U.S. defeating Russia at the 1980 Winter Olympics before going on to claim gold in one of the greatest sports stories of all time.
Now, you can help someone feature U.S. coach and Minnesota hockey legend Herb Brooks's pregame speech in their own home or office with this iconic poster. As immortalized in 2004's movie Miracle, there's no better way to pay homage to one of the sport's most historic victories.
Blade Barber Skate Sharpener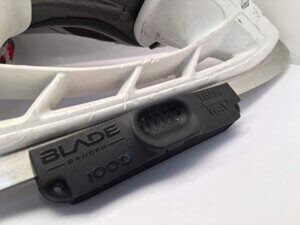 Now that we've got some fan memorabilia covered, how about something for the skaters in our lives? The Blade Barber Skate Sharpener is the most convenient way to keep skates sharpened anywhere in a matter of seconds.
With a simple 3-4 passes per edge, blades of all types (hockey, figure, goalie) and thicknesses can be sharpened in just 30 seconds. The Blade Barber uses a tungsten carbide blade to shave steel as it sharpens the skate and is good for 25-30 pairs of skates before showing any signs of dulling.
Synthetic Ice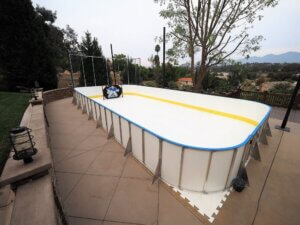 Whether looking to set up an indoor rink or an outdoor rink in warmer climates, synthetic ice is a great way to achieve skateable, high-performing ice in any environment. D1's self-lubricating synthetic ice is the fastest synthetic ice surface available today, with no need for messy surface coatings or spray-on lubricants.
Our synthetic ice resists UV, subzero impacts, staining, and moisture, and is proven to perform in even the most extreme warm-weather climates. Easy to install and to care for, it's the perfect gift to pair with our custom hockey boards to help bring a loved one's dream rink to life this holiday season.
NHL Tickets
There's no better way to feed someone's love for hockey than by treating them to an in-person view of the sport being played at its highest level. With regular season games essentially every night from October through April, there's no shortage of opportunities to help make a lasting memory for fans of any age.
Bauer Deluxe Hockey Sauce Kit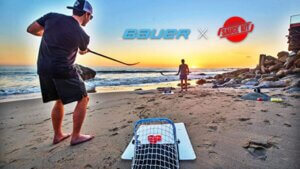 The Deluxe Hockey Sauce Kit from Bauer not only serves as a fun game that can be played anywhere and in any weather, but it also doubles as a training tool to help developing players work on their saucer pass strength and accuracy.
Similar to cornhole but with hockey sticks and pucks, the kits arrive fully assembled and ready to play right out of the box. From the front yard to the beach and anywhere in between, it's a great way to bring thrill of hockey with you everywhere you go.
Give the Gift of Hockey with D1 Backyard Rinks
Thousands of customers throughout the U.S. and Canada have trusted D1 Backyard Rinks to provide them with a superior hockey experience, including the homes of youth hockey players, commercial training facilities, and many NCAA and professional hockey teams. Our professional rink designers are here to recommend the best solution for your unique needs and environment, and is also available to ensure installation and maintenance are a breeze from start to finish.
Contact us today to learn more or check out our Rink Builder tool to start making your vision a reality.
Custom Design:
Shipped to New Jersey

Size: 20' X 40'
Combo Boards with
Synthetic Ice
Custom Design:
Shipped to Grand Forks, ND

Size: 80' X 80'
Outdoor Rink
With Tall Boards
Custom Design:
Shipped to Twin Cities area, MN

Size: 16' X 16'
Shooting Lane
With Tall Boards & Synthetic Ice