D1 Synthetic Ice is
MADE IN THE U.S.A.

Fast Synthetic Ice
D1 Glide Infused Pro Self Lubricated Synthetic Ice is the fastest synthetic ice surface available today.
More consumers, municipalities, hockey training facilities and professional hockey players will choose D1 synthetic ice over other available brands.
Great Skating Experience
D1's artificial ice feels like you are skating on natural ice.  You will develop better hockey starts and stops.  Your strides, cuts and turns will become stronger.
Low Maintenance

D1's artificial ice is manufactured with our glide solution infused throughout the entire synthetic ice tile.  As a result, there is no need for messy, short-lived surface coatings or lubricants.  Simply install the synthetic ice tiles and begin skating immediately.   

Indoor or Outdoor

Create your hockey rink inside or out.  Tested in extreme heat and cold environments.  D1 artificial ice is UV stabilized to protect against the sun and resistant to impact (chipping) when exposed to cold temperatures.
Largest Supplier

Thousands of customers trust D1 to provide them with a superior hockey rink; including the homes of youth hockey players, commercial training facilities and many NCAA & professional hockey teams.
Selecting the artificial ice tiles that is the best fit for you involves a few factors such as hockey rink size, location, planned use & budget. Our hockey rink designers will recommend the best solution for your hockey rink project.
Combine the D1 synthetic ice tiles with D1 Hockey Boards and make a great hockey rink!
Manufacturer Discounts

We have several programs in place to help our customers save.  For example, families with players part of a youth hockey association (USA Hockey or Hockey Canada. ) may receive a substantial savings. We also have several programs in place to help our commercial customers save!
On this page you will find a wealth of information including:
Assembly Instructions
Frequently Asked Questions
Care & Maintenance
Installation Videos
Scrolling Gallery of Featured Rinks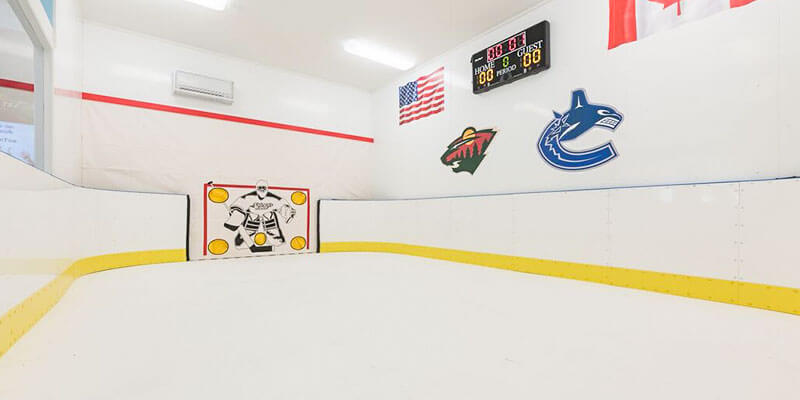 D1 Glide Infused Self-Lubricated Pro Synthetic Ice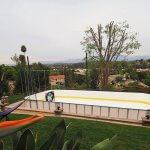 Compare the D1 Glide Infused Pro Self Lubricated Synthetic Ice to any other artificial ice product and see for yourself why more and more consumers, municipalities, facilities owners and managers prefer it.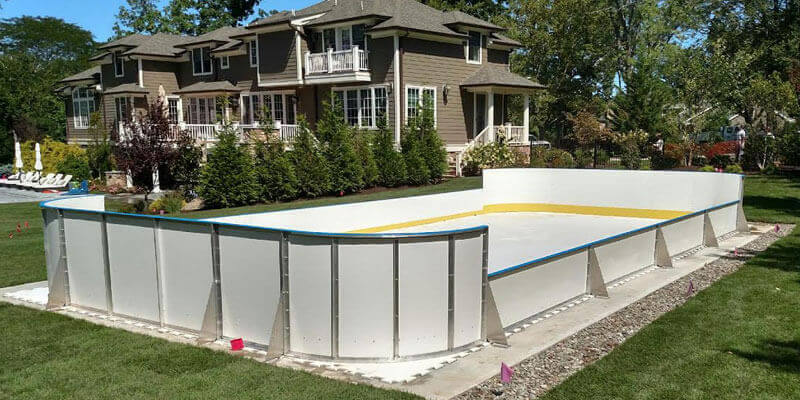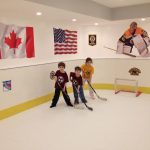 Advantages:
* Exceptionally fast surface artificial ice skating surface
* Requires no messy surface coatings or spray-on lubricants
* Resists UV & sub-zero impacts
* Resists staining and moisture
Applications:
* Year round public and private indoor and outdoor hockey rinks
* Practice synthetic ice rinks
* Residential, scholastic and municipal facilities
Configurations:
* Size: 45″ wide x 93″ long
* Thicknesses: 3/8″ and 1/2″
* Color: Ice White
* Finish: Matte on 2 sides
* Skate ready dovetail edges for easy installation and cutting
Independent laboratory tests show that D1 GLIDE INFUSED PRO SELF-LUBRICATED SYNTHETIC ICE outperforms other synthetic ice skating surfaces on both Static and Kinetic Coefficient of Friction (CoF). 
Static CoF indicates resistance to motion from a stopped position and Kinetic CoF indicates resistance once in motion.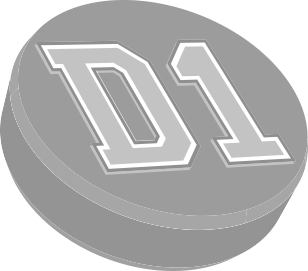 Competition is a Good Thing
There are many great synthetic ice companies to choose from. Why pick D1? hello.
We sell thousands of synthetic ice tiles each year and we have had zero returns. Literally, no returns. From the research we've done, we believe we manufacturer and sell more synthetic ice than most of our competitors.
While we sell a lot of artificial ice, we manufacturer and sell even more Hockey Boards. We can provide you with a complete hockey rink solution.
We are fanatical about quality! Each time we produce a batch of synthetic ice tiles, we follow a rigorous test plan to ensure the artificial skating surface meets our ice skating standards.
The same holds true for each hockey rink we ship. We expect each ice rink to arrive unblemished and flawless at it's destination. Three D1 team members and a shop supervisor carefully pack and inspect each hockey rink before it leaves our workshop in Saint Paul, Minnesota.
We will support your synthetic ice rink installation until the last synthetic ice tile has been laid down or hockey rink board has been installed. We are a very responsive organization. You will receive superior customer support by phone, email and even text!
We may follow-up on your inquiry to make sure your questions have been answered, but we don't oversell!! Our work product and the thousands of satisfied D1 customers to date speaks for itself.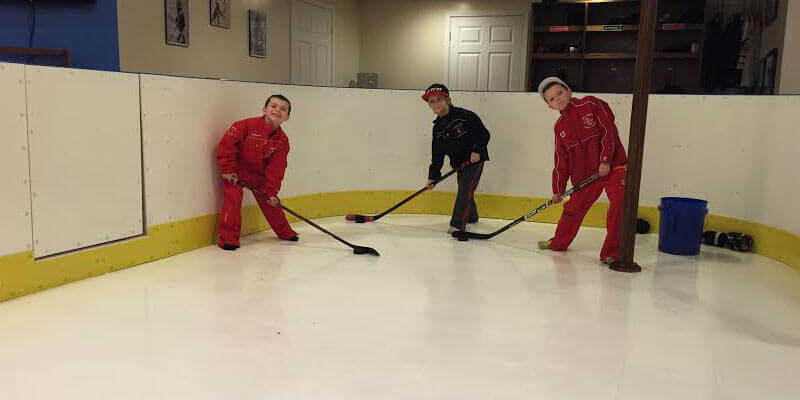 All D1 Synthetic Ice products are:
Stabilized with a UV Inhibitor to protect against the sun
Tested and verified to withstand extreme cold or hot temperatures, resulting in durability and long life both indoor or outdoors
Features a dovetail pattern for easy "self-locking" and installation
Full size panels measure 45″ x 93″ and are available in 3/8″ (60 lbs) or 1/2″ (80 lbs) thicknesses
The following customers buy D1 Synthetic Ice Rinks:
Homeowners…to make garage, basement and backyard synthetic ice rinks for year round use
Hockey Associations & Arenas…for their dedicated training areas
Coaches…for specialized group and individual training
Camps & Clinics….for large and small group instruction
Park & Rec Centers…for public synthetic ice rinks
Fairs & Special Events…for public synthetic ice rinks

Assembly Instructions
Preparation
Expansion and Contraction
Tools
Installation
Preparation
Preparation
Your Synthetic Ice rink setup will be much easier with the help of another person.
The full size panels 3/8" panels weigh 60 lbs and the 1/2" panels weigh 80 lbs.
Two people each carrying an end of one panel is the easiest method for moving the Synthetic Ice panels from place to place. Gloves are also recommended.
Please Note:
There are 4 unique sides to each panel.
For example, the left side of the panel will only connect to the right side of the next panel and the top of the panel will only connect to the bottom of the next panel and so on.
When you lift the Synthetic Ice panels off the pallet, it is important to maintain the same pattern as you carry them to the installation area.
Expansion and Contraction
Tools
Installation
Synthetic Ice FAQ's
What is D1 Synthetic Ice?
In plain terms, D1 Synthetic Ice is a plastic material. The density and rigidity of the Synthetic Ice and its textured surface, when coupled with lubricants infused into the material, creates a surface akin to real ice for skating purposes.
Does D1 Synthetic Ice require a spray?
The D1 Glide Infused Self Lubricated Pro Synthetic Ice is an exceptionally fast and smooth skating surface that is 100% maintenance free.
The glide solution is infused into and throughout the Synthetic Ice panel, which results in great glide properties without the need for additional topical lubricants. And, it is dry to the touch!
What is the difference between D1 Synthetic Ice and Natural Ice?
The sensation of skating on D1 Synthetic Ice is the same as natural ice. The strides, stops, turns, etc. use the same technique. However, skating on Synthetic Ice requires about 10-15% extra effort, which makes it a great tool for training and developing an explosive skating stride.
Will a hockey puck slide the same on D1 Synthetic Ice?
Yes, a hockey puck slides and moves very well across D1 Synthetic Ice. The expected feel of the puck on the stick is about 95% of natural ice.
Can regular skates be used?
Any Synthetic Ice available will dull skates more quickly than natural ice. D1 Synthetic Ice will NOT damage your skates.
What preparation is needed before the Synthetic Ice installation?
A hard, flat surface is required. A cement slab, wood platform, asphalt, patio pavers, crushed rock are each viable sub surfaces on which to directly install D1 Synthetic Ice.
It is recommended the sub surface be oversized by at least 12" (for outdoor rinks) and 3" (for indoor rinks") on all 4 sides of the rink. This will accommodate any expansion that may occur with the Synthetic Ice, as well as the Board Supports.
Can Synthetic Ice be installed on grass?
No, D1 Synthetic Ice cannot be installed directly on grass. At a minimum, a cement slab or wood platform will need to be built to provide the adequate sub surface above the grass.
It is recommended the sub surface be oversized by at least 12" (for outdoor rinks) and 3" (for indoor rinks") on all 4 sides of the rink. This will accommodate any expansion that may occur with the Synthetic Ice, as well as the Board Supports.
Will I need any special tools to install a Synthetic Ice rink?
A 4 pound rubber mallet is required to pound the interlocking dovetails together to lock panels into place. If cutting is required, a circular saw will be needed.
Can Synthetic Ice be used in above and below freezing temperatures?
Yes, absolutely. D1 Synthetic Ice may be used year long in the extreme heat and sun of the summer and the bitter cold of the winter.
How often do I need to clean a Synthetic Ice rink?
D1 Synthetic Ice requires very little cleaning. Simply keep the ice free and clear of debris. D1 Synthetic Ice will require cleaning with "green" agents after numerable skating sessions. Cleaning intervals may increase if there is heavy usage.
How often will I need to resurface the Synthetic Ice rink?
D1 Synthetic Ice doesn't require resurfacing. Should the ice become dirty or full of debris, simply broom sweep the surface and mop it with regular soap and water. A floor scrubber may also be used, but is not required.
Do I need to build a roof over a Synthetic Ice rink if it is outdoors?
No. D1 Synthetic Ice possesses a UV Stabilizer additive, which protects the ice from the sun. Rain water or snow will not affect the performance of the ice. In fact, water helps to clean the ice.
What is the expected lifespan of Synthetic Ice?
D1 Synthetic Ice is expected to last a long time. For extended life, simply flip over the D1 Synthetic Ice panels.
Does Synthetic Ice have a warranty?
D1 offers a 1 Year Warranty on our Synthetic Ice.
Effective May 1, 2018
When is the best time to install a Synthetic Ice rink?
There is no particular time of year better than others for installing a synthetic ice rink.
Is it possible to expand the Synthetic Ice rink at a later date?
Yes, additional panels may be purchased and easily connected with an existing rink system.

Care & Maintenance
As Needed
Deep Clean as Needed
As Needed
As Needed
The following maintenance will be required on an as needed basis:
Remove all plastic shavings and debris from the rink.
Sweep up and vacuum entire rink surface. 

Use of a leaf blower for large facilities will speed up the process.

Blow the shavings into one pile and scoop up. Shavings are normal and expected!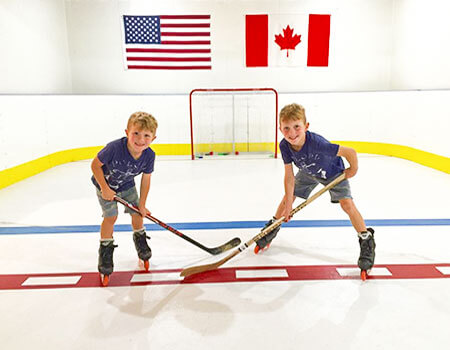 Deep Clean as Needed
Featured Synthetic Ice Rinks

Videos