Tips
August 4, 2023
Choosing the Right Size for Your Outdoor Hockey Rink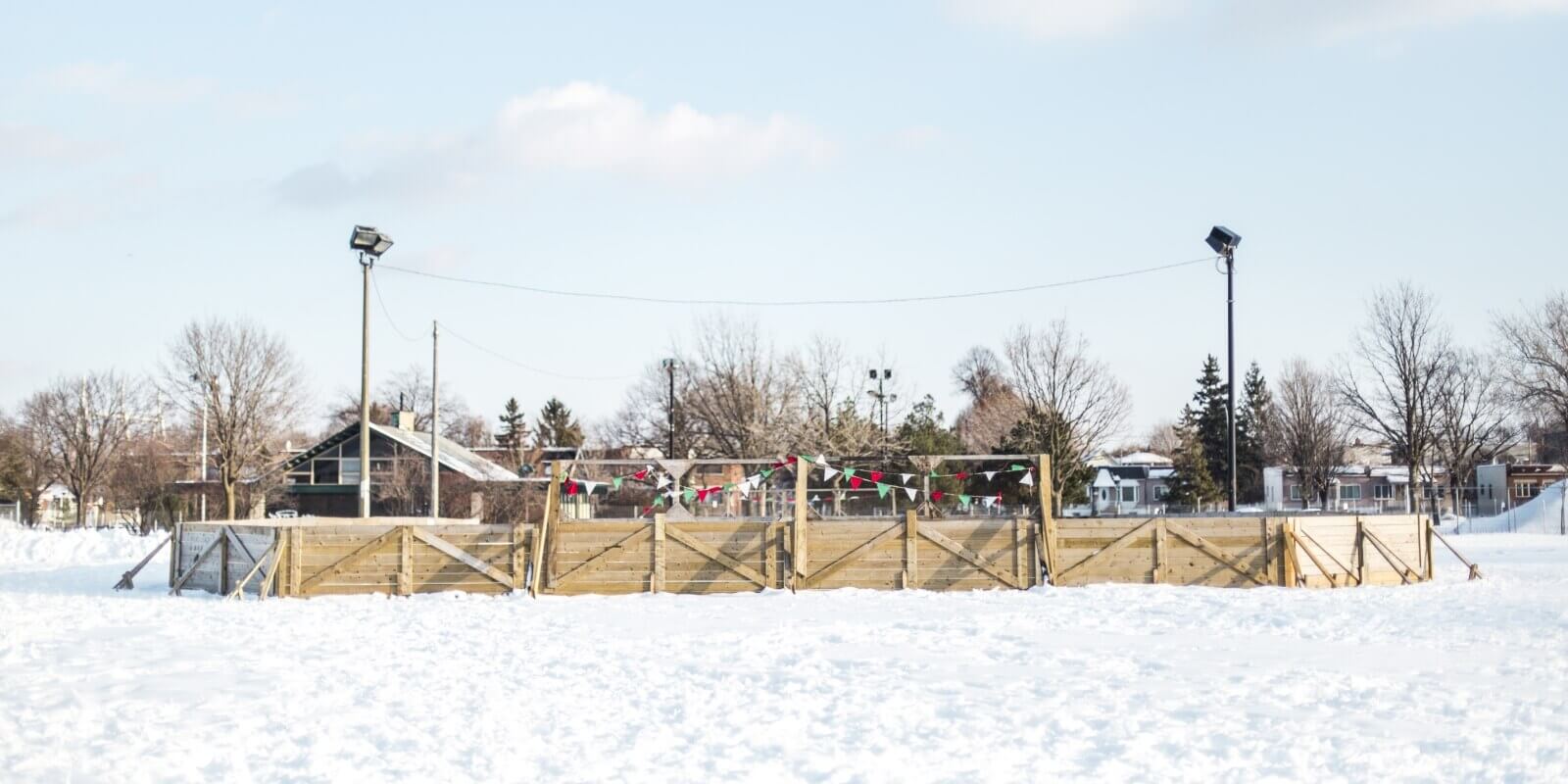 When going through the process of setting up an ice rink in your backyard, one of the top considerations is the size of the rink – and the size you decide to go with will likely depend on a number of factors.
First of all, the size and dimensions of your backyard will play a huge role in determining how large the rink can be, along with which areas are level and which are just too uneven to house a skating rink.
The second major factor to consider is how you plan on using the rink. Maybe you're hoping to play 3-on-3 hockey, or maybe figure skating or speed skating are more in your wheelhouse. It's also possible you just want a nice patch of ice for some relaxing open skating in the comfort of your own backyard. Whatever your goals may be, they must be considered when planning the position and scale of your rink.
There are also a number of pros and cons that come with both larger and smaller rinks. Here, we'll break down some different rink size standards depending on country and sport, along with the key advantages and disadvantages of both larger and smaller ice rinks.
Understanding Different Rink Sizes
When people envision a hockey rink, we all generally picture the same basic shape and size – but did you know rinks actually vary in size and dimensions depending on their location and intended use?
A regulation-size hockey rink in the U.S. (including those in NHL arenas) measures 200 feet long by 85 feet wide. You will typically also find rinks this size if you go somewhere for an open skate or if you play or watch junior hockey in the U.S.
International hockey rinks, however, are slightly shorter but quite a bit wider, measuring 60 meters long by 30 meters wide (or 196.9 by 98.4 feet). These same dimensions are used by Olympic rinks to host all skating sports at the winter games.
Lastly, we have a regulation-size figure skating rink, coming in at 200 feet long by 100 feet wide to give skaters the space they need to safely perform their routines.
If you're hoping to make your rink proportionate to its real-life counterpart, knowing how you plan to use it ahead of time is a critical step.
Pros and Cons of Larger and Smaller Rinks
Sometimes the size of your rink is limited by the size of your yard, but it's still important to note that the size of the rink can have a big impact on the overall enjoyment of skating.
Larger rinks can allow you to build up more speed and can provide you with more room for turns and spins, in addition to letting you practice shots and passes from a considerable distance. Larger rinks also have more room for more people to skate while reducing the likelihood of running into someone or something. If you're hoping to have frequent pickup games or group skates on your rink, then larger is almost certainly better.
Smaller rinks, on the other hand, can provide a much more intimate and cozy skating experience – but only if they're being used by just a few people at a time. Any more than that and you're likely looking at a crowded, somewhat chaotic experience that may even require you to take turns skating. Smaller rinks do, however, generally cost less to set up and maintain than other larger options. If budget is a top concern and your rink will only be used by three or fewer people at a time, then a smaller size may be doable for you.
Try our Rink Builder tool today to start experimenting with different sizes and dimensions for your backyard.
Make Your Dream Rink a Reality with D1 Backyard Rinks
Thousands of customers throughout the U.S. and Canada have trusted D1 Backyard Rinks to provide them with a superior DIY hockey experience, including the homes of youth hockey players, commercial training facilities, and many NCAA and professional hockey teams. Our professional rink designers are here to recommend the best solution for your unique needs and environment and are also available to ensure installation and maintenance are a breeze from start to finish.
Contact us today to learn more or check out our Rink Builder tool to start making your vision a reality.
Custom Design:
Shipped to New Jersey

Size: 20' X 40'
Combo Boards with
Synthetic Ice
Custom Design:
Shipped to Grand Forks, ND

Size: 80' X 80'
Outdoor Rink
With Tall Boards
Custom Design:
Shipped to Twin Cities area, MN

Size: 16' X 16'
Shooting Lane
With Tall Boards & Synthetic Ice