Build a Custom Backyard Ice Rink
Request your FREE instant price quote today!
Create a custom rink with D1 Backyard Rinks! Indoor, outdoor, permanent or seasonal, our home ice rinks are tailored perfectly to you! Explore our synthetic ice and hockey board options to fit your space perfectly.
Get Started with Rink Builder
Assembly Instructions
Stand in the center of one end and roll the Liner down the rink.
You will need at least 5 of extra Liner on each end and side. For example, we recommend a 40′ x 70′ liner for a 35′ x 65′ rink.
Adjust the Liner length as needed.
From there, unfold the Liner so it reaches the sides of your rink.
Be sure the Liner is bunched up where the Hockey Board meets the ground. This will allow the Liner to adjust with the pressure of the water.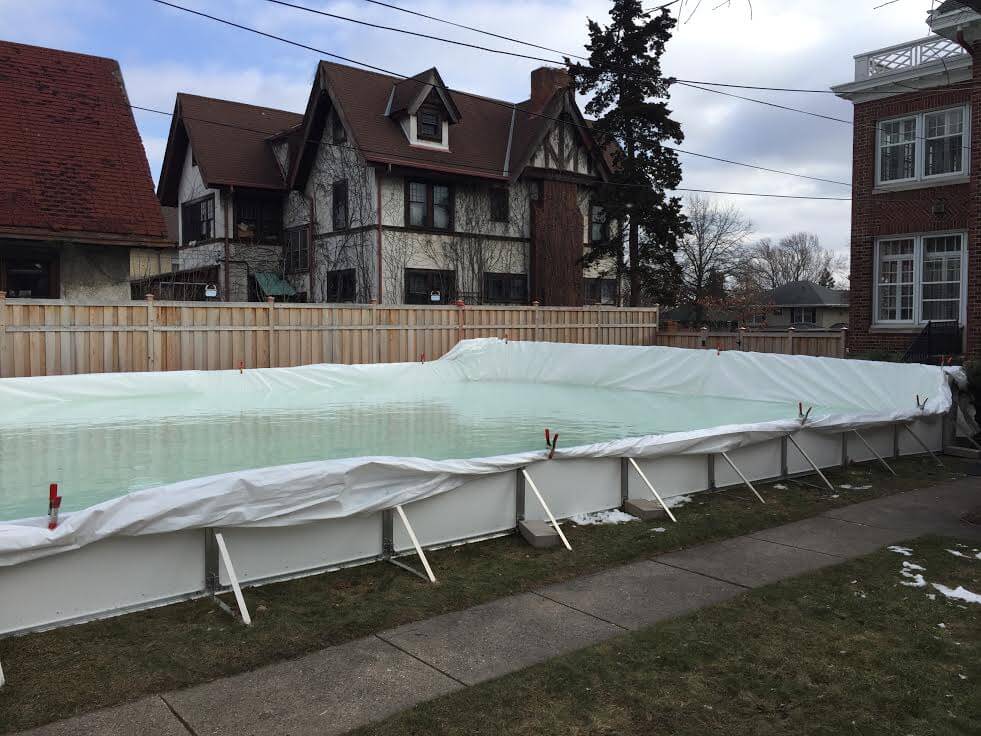 Ice Rink Liners FAQ's
What is the quality of D1 Ice Rink Liners?
D1 Ice Rink Liners are made from a heavy 6 mil tri-layer poly with ripstop reinforcements to prevent tearing or zippering.
What size Liner do I need?
We suggest you oversize your Rink Liner by at least 5′. For example, if your winter rink is 35′ x 65′, we suggest you purchase a rink liner that is at least 40′ x 70′.
How many years will my D1 Ice Liner last?
D1 Ice Rink liners have been known to last 2-3 years. The cost to replace a rink liner is nominal. D1 recommends replacing your rink liner each year unless you are 100% certain the liner is free from holes and tears.
Will the Liner cause any damage to my lawn?
If the ice rink liner is removed immediately after the ice has thawed, damage to the lawn will be minimal.
When will I receive my Liner?
We process all Rink Liner orders the same day. The Liners are then cut by hand and shipped out the next day.
We ship D1 Ice Rink Liners throughout U.S.A. and Canada.