This is our Biggest Sale & Best Pricing of the Year!!
Take Advantage of our Annual Spring Inventory Blowout!!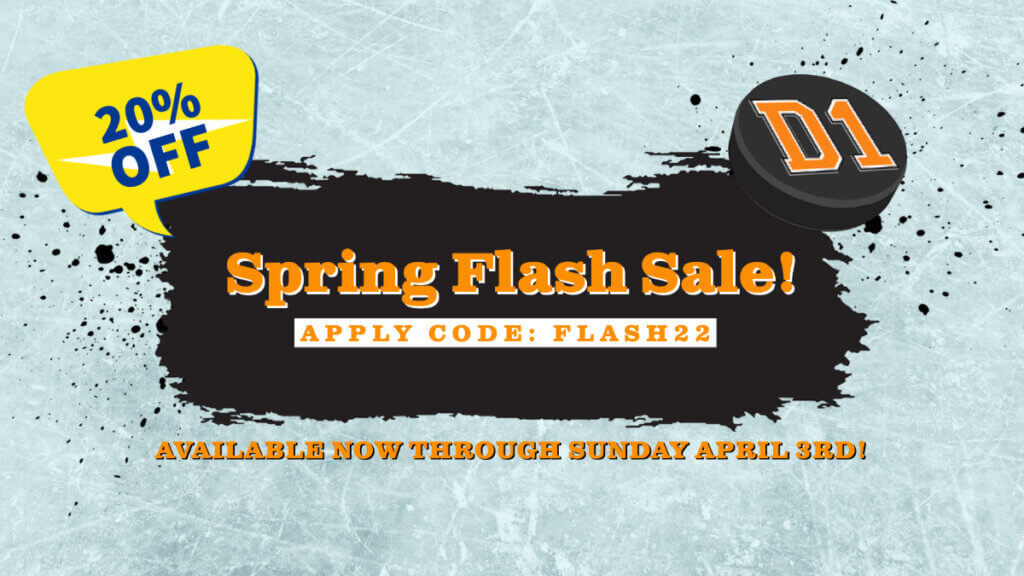 More than $750,000 of D1 Hockey Boards and Synthetic Ice are available at deep discounts during our Spring Flash Sale.  This is the only time of year we blowout our inventory.
If you are considering a D1 rink, the Spring Flash sale is a great way to save!  
What do Customers Say?
"Our kids were so excited when we told them we were buying a D1 rink.  The spring sale made it affordable for our family."
– Joan from Valencia, PA
"The spring flash sale is a great deal.  It made it easier to pull the trigger."
– Jim from St. Charles, MO
"We purchased our D1 rink last spring during the flash sale.  Our kids and their friends use the rink all the time.  We love it!"
– Susie from Kirkland, WA
How Do I Get Started?

The easiest way to take advantage of our Spring Flash Sale is to build your rink using our Rink Builder tool.  You will receive an immediate price quote, along with the discount we are offering with the sale.  Please note: if you have already built a rink using our Rink Builder tool, we encourage you to build it again so the Spring Flash Sale pricing is applied.
How Do I Place My Order?
If you would like to order your rink, please call us at 855-355-3131.  You may submit your payment using any major credit card or with PayPal.     
May I Lock in the Sale Price?
Yes.  If you aren't quite ready to take delivery of your rink, you may lock-in the Spring Flash Sale pricing with a 50% deposit.  The remaining balance is due before we ship out.
When Will I Receive My Rink?

If you are ready for your rink, we will begin packing and shipping rinks the week following the flash sale.  Rinks will be packed and shipped on a first come first serve basis.
Save Big $$$D1 Annual Spring Flash Sale Now thru Sunday April 3rd
Update your rink design with our Rink Builder tool
Receive an immediate quote with our flash sale pricing
Not ready for your rink?  No problem.  A small deposit locks in the flash sale pricing.
Now thru Sunday April 3, 2022
For questions or to place your order, please call 855-355-3131 or email sales@d1backyardrinks.com