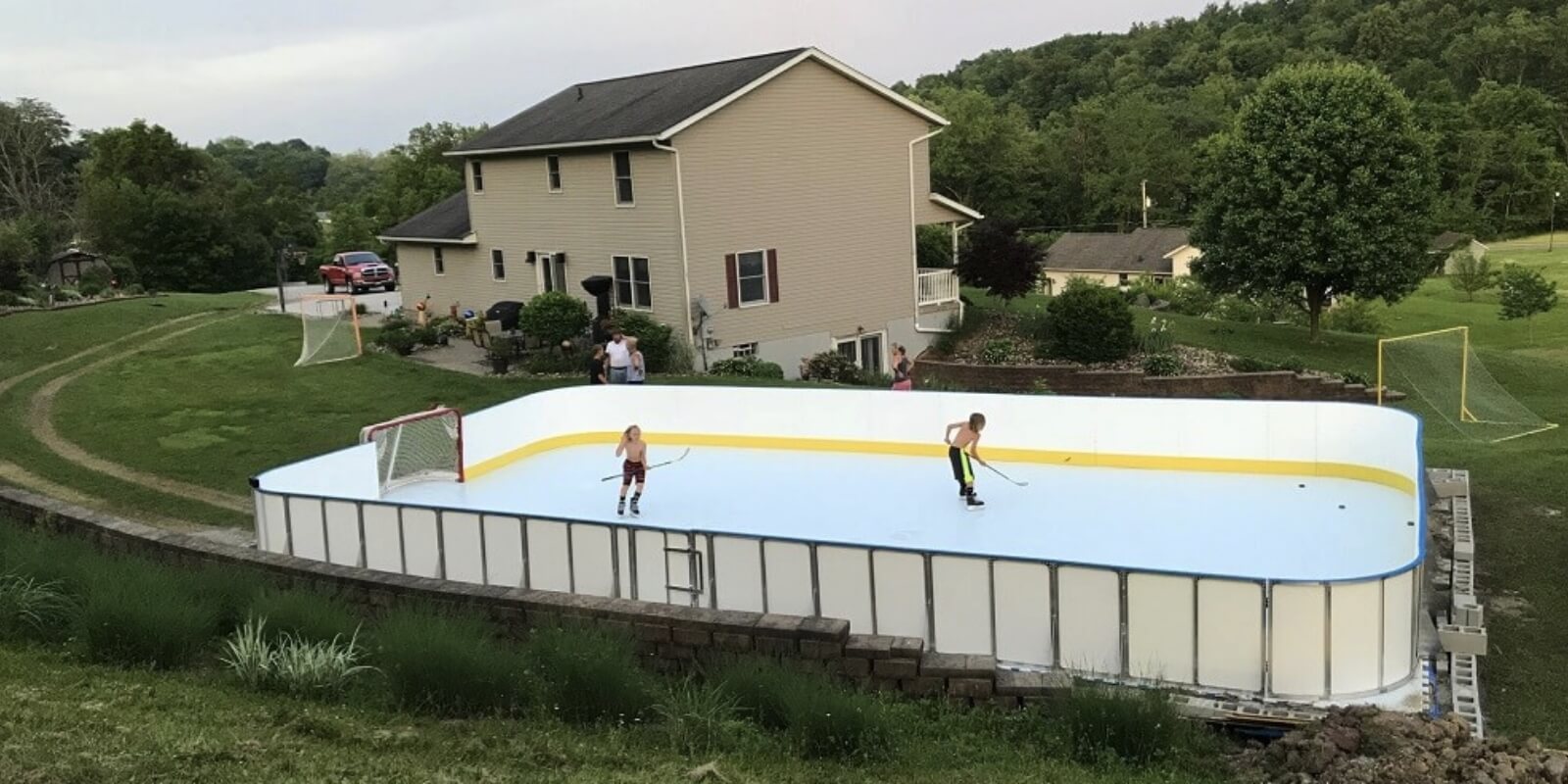 Synthetic Ice vs. Real Ice
Jan. 31, 2023
Hockey fans and families all over the U.S. and Canada have envisioned what it would be like to have a quality rink in their own backyard, but unless you live in a northern climate during the winter months, that idea can seem like little more than a pipe dream.
That is, at least, until synthetic ice came onto the scene, offering homeowners and organizations in warmer climates a year-round way to lace up the skates and take to the rink. Still, there is some uncertainty and skepticism surrounding the quality of synthetic ice and how closely it compares to real ice from a performance, durability, and maintenance standpoint.
We are here to dispel some of those concerns and to pinpoint whether or not synthetic ice can truly provide a realistic and enjoyable hockey experience in any climate or environment (spoiler: it can).
How Realistic is Synthetic Ice?
The most important aspect of synthetic ice is the realism of its performance. It can look like real ice, but unless it closely simulates the experience of skating and stickhandling on real ice, there's really no point in purchasing and installing it.
Thankfully, synthetic ice from D1 feels almost exactly like the real thing. The density and rigidity of our synthetic ice and its textured surface – when coupled with the lubricants infused into the material – create a surface akin to real ice for skating purposes. And we have the data to back it up.
Independent laboratory tests show our synthetic ice outperforms other synthetic ice surfaces in terms of both static and kinetic coefficient of friction (CoF), which indicates superior resistance to motion when stopped and when in motion. The expected feel of a puck on a hockey stick is about 95% that of natural ice.
Our synthetic ice is tested in extreme heat and cold environments and is great for training indoor or out. Skating on synthetic ice requires about 10-15% additional effort compared to natural ice, making it a great tool for training and developing an explosive skating stride without having to worry about damage to your skates.
How Durable is Synthetic Ice?
Another key concern for synthetic ice is how long it can maintain its performance in environments not typically suited for hockey (i.e., warm and sunny outdoor or heated indoor environments).
D1's synthetic ice is made in the U.S. and is UV-stabilized to protect against the sun. Our synthetic ice is stain-, moisture-, and impact-resistant to protect against chipping when exposed to cold temperatures, helping it perform year-round in the extreme heat and sun of the summer or the bitter cold of the winter.
How Much Maintenance Does Synthetic Ice Require?
Natural ice requires a fair amount of maintenance to keep it skateable, from resurfacing to removing snow, chips, and shavings after each use. D1's synthetic ice, on the other hand, is an exceptionally fast and smooth skating surface that is 100% maintenance-free.
Our glide solution is infused throughout the entirety of each tile, eliminating the need for messy, short-lived surface coatings or lubricants. Our synthetic ice doesn't require resurfacing, either. If the ice becomes dirty or covered in debris, simply sweep it with a broom and mop it with regular soap and water if desired. That's all the upkeep that's needed.
Bring Your Dream Rink to Life in Any Environment
Thousands of customers throughout the U.S. and Canada have trusted D1 Backyard Rinks to provide them with a superior hockey experience, including the homes of youth hockey players, commercial training facilities, and many NCAA and professional hockey teams. Our professional rink designers are here to recommend the best solution for your unique needs and environment and are also available to ensure installation and maintenance are a breeze from start to finish.
Contact us today to learn more or check out our Rink Builder tool to start making your vision a reality.