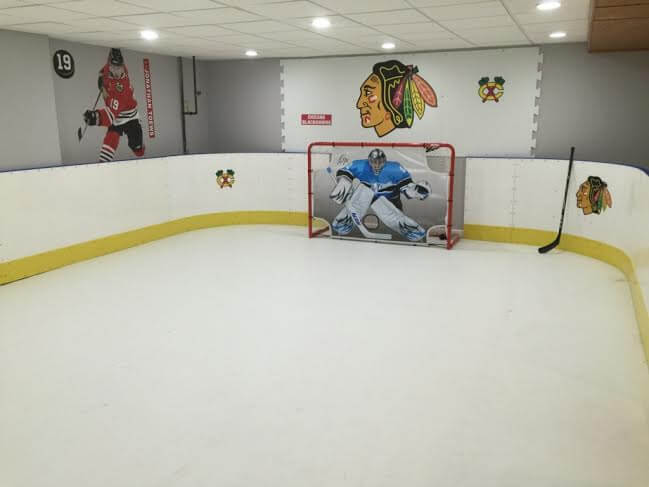 D1 Synthetic Ice is the best synthetic ice on the market. 
More consumers, municipalities, hockey training facilities and professional hockey players will choose D1 Synthetic Ice over other available brands.
Tall 42 inch Straight Hockey Boards

D1 Tall 42 inch Straight Hockey Boards are perfect for any synthetic ice rink or backyard rink.
Combine the hockey boards with D1 Synthetic Ice and make a year round outdoor hockey rink!
Smart Hockey Rink Design

All D1 hockey boards are made with a heavy duty aluminum frame and have the same dasher material you would find in a regulation ice rink featuring a BLUE caprail, WHITE dasher face and YELLOW kickplate.
Multiple Installation Options

There are several methods for installing the D1 hockey rink boards.  You may mount them directly to any wall or flat surface.  You may also choose from our permanent or portable board supports depending on the particulars of your hockey rink project.
FREE Custom Boards

We will work with you to make your measurements work.  If your hockey rink project needs custom rink board(s) made to ensure a perfect fit, we will customize our hockey arena boards at no charge.  This is especially the case for basement rinks or garage rinks and for those outdoor hockey rinks or synthetic ice rinks.
Indoor or Outdoor

You may install your hockey boards inside or out.  The dasher material (hockey board plastic) used to make the D1 rink boards are infused with a UV stabilizer to protect against the sun and any unwanted discoloration over time.
Largest Supplier

Thousands of customers have trusted D1 to provide them with a superior hockey rink; including the homes of youth hockey players, commercial training facilities and many NCAA & professional hockey teams.
Selecting the hockey boards that is the best fit for you involves a few factors such as hockey rink size, location, planned use & budget. Our hockey rink designers will recommend the best solution for your hockey rink project.
Combine the D1 hockey boards with D1 Synthetic Ice and make a great hockey rink!
Manufacturer Discounts

We have several programs in place to help our customers save.  For example, families with players part of a youth hockey association (USA Hockey or Hockey Canada. ) may receive a substantial savings. We also have several programs in place to help our commercial customers save!